Fandies Fudge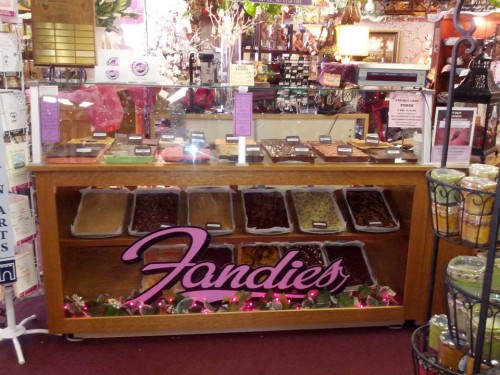 Oh, Fudge! Oh, Yes!
Gourmet Fudge!
Specialty Flavors Every Month!
Over 12 Flavors available Everyday!
Our Story...
Once upon a time there was a wonderful Candy Store named Fandies Candy Company, owner Debi Moore worked very hard to make delicious fudge and perfected every recipe!
Her business grew to be very successful and fulfilling for many years...Life changes and Debi's life took a different direction and she felt the best choice was to close her candy store.
The whole community was sad to see this great part of our city go away. Debi and i had been friends for years so we began discussing bringing the fudge to my florist shop. It seemed to be a perfect combination! We worked out all the details and here we are! Debi continues to mentor us and answer the many questions as they arise and fandies fudge has found a new home at "Touch of Love."
With the commitment of our staff, family, and friends, we intend to carry out the quality of ingredients, workmanship, and creativity Fandies was known for! It's love at first bite!
Business is Sweet!
Some of Our Flavors...
Chocolate

Chocolate Walnut

Butter Pecan

Amaretto Chocolate Swirl

Salted Nut Roll

Cappuccino

Dark Chocolate Caramel Sea Salt

Peanut butter

Peanut Butter Chocolate

Mint Chocolate Swirl

Pumpkin Pie

Chewy Praline

Rocky road

Chocolate Explosion

Maple Nut

Candy Cane

Sangria

Cookies N' Cream

Raspberry Swirl

Key Lime

Lemon Meringue

Bubble Gum

Cherry Cordial

Root Beer

Watermelon

Cheesecake

Wedding Cake

Carrot Cake

Snickers

Jalepeno Chocolate

Apple Pie

Egg Nog
We are delighted to continue the tradition of Fandies for making "Best Fudge" you have ever had!!
∗We Ship Fudge only in the State of Colorado! ∗In Store Fudge Special ∗Customize for Weddings-Anniversaries-Birthday-Holiday Parties ∗Corporate Gifts ∗Sucrose Free Fudge